Lucas Oickle is an award-winning Nova Scotian composer currently based in Shizuoka, Japan, where he lives with his wife Chihiro and their two cats Taro and Ponzu.
Listen to "Bridge of Magpie Wings" :
*read this poem by Vancouver-based poet / spoken word artist Sebastien Wen on "Bridge of Magpie Wings"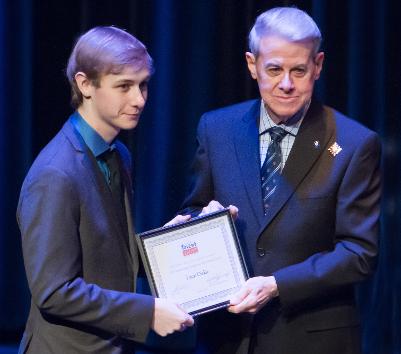 2014 NSTT Special Awards: Receiving the prestigious 2011 Canada Games Artist of Excellence Award (in the amount of $10,000) from His Honour the Lieutenant Governor of Nova Scotia; Thank you to the Nova Scotia Talent Trust and the 2011 Canada Games Legacy Fund for your support.
[ photograph by David Elliott ]
New commission for music & dance celebrating the 130th anniversary of the Maritime Conservatory of Performing Arts; performances TBA in 2017.
NOVEMBER 6th 2016: through the azure skies for SATB, 'cello, & piano, is a finalist in the 2016 Via Choralis composition competition.
NOVEMBER 25th 2016: Jupiter II/VI on the Dalhousie University Wind Ensemble
August 2016: "squeezed through wood" for solo bassoon & orchestra, with the NSYO feat. Nadina Mackie Jackson. Lunenburg | Pictou | Halifax.
PM2.5 on the 2016 Sound of Dragon Music Festival
Sugar Tree (2015) premiered at the Basklarinet Festijn 2016 in Utrecht, Netherlands

[ thanks as always to Chihiro for her website help & advice ]