Lucas Oickle is an award-winning Nova Scotian composer currently based in Shizuoka, Japan, where he lives with his wife Chihiro and their two cats Taro and Ponzu.
Listen to "Bridge of Magpie Wings" :
*read this poem by Vancouver-based poet / spoken word artist Sebastien Wen on "Bridge of Magpie Wings"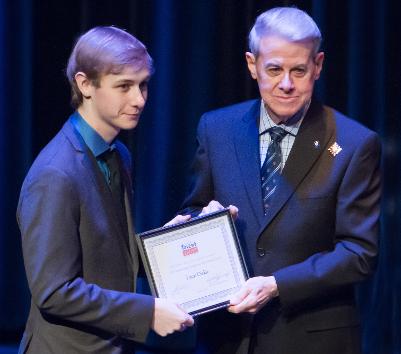 2014 NSTT Special Awards: Receiving the prestigious 2011 Canada Games Artist of Excellence Award (in the amount of $10,000) from His Honour the Lieutenant Governor of Nova Scotia; Thank you to the Nova Scotia Talent Trust and the 2011 Canada Games Legacy Fund for your support.
[ photograph by David Elliott ]
Lucas is now an Associate Composer of the Canadian Music Centre. Read more here.
Commission celebrating the 130th anniversary of the Maritime Conservatory of Performing Arts; performance(s) TBA in 2017.
New work for cello & harp; premiere TBA 2017.
New version of Four asterisms for Chris and Kathryn Hendrickson Eagles (percussion & flute duo). Performances TBA.
through the azure skies for SATB, 'cello, & piano, won the 2016 Via Choralis composition competition.
[ thanks as always to Chihiro for her website help & advice ]