Lucas Oickle is an award-winning Nova Scotian composer currently based in Shizuoka, Japan, where he lives with his wife Chihiro and their two cats Taro and Ponzu. He is an associate composer of the Canadian Music Centre.
Listen to "Bridge of Magpie Wings" :
*read this poem by Vancouver-based poet / spoken word artist Sebastien Wen on "Bridge of Magpie Wings"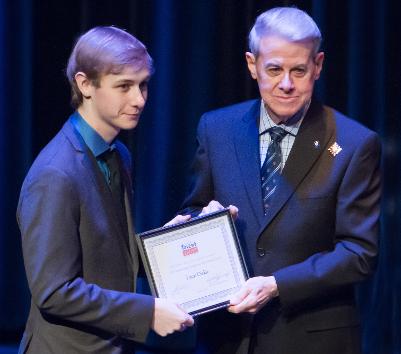 2014 NSTT Special Awards: Receiving the prestigious 2011 Canada Games Artist of Excellence Award (in the amount of $10,000) from His Honour the Lieutenant Governor of Nova Scotia; Thank you to the Nova Scotia Talent Trust and the 2011 Canada Games Legacy Fund for your support.
[ photograph by David Elliott ]
Lucas has won the 2018 Toronto Chinese Orchestra Composition Competition, along with fellow composer & friend Qinglin Bruce Bai. A new major work for Chinese orchestra will be premiered in 2018.
Lucid, the new CD by cellist India Gailey, releases in December 2017. Includes works by Liam Elliot, Adam Langille, Lucas Oickle, and India herself. Ellen Gibling, harp, contributes on Lucas' piece. Recording by Ken Shorley / Mastering by Ross Koopmans.
Lucas is now an Associate Composer of the Canadian Music Centre. Read more here.
Fifteen Decades (2017), for solo carillon, has won the Chime In, Canada! 2017 carillon composition contest (youth category), hosted by the House of Commons in celebration of Canada's 150th.
Commission celebrating the 130th anniversary of the Maritime Conservatory of Performing Arts; premiere in 2017.
through the azure skies for SATB, 'cello, & piano, won the 2016 Via Choralis composition competition.
[ thanks as always to Chihiro for her website help & advice ]