A gamelan is a traditional metallophone-based ensemble of Indonesia, particularly prominent from the islands of Java and Bali. Though many different genres and subgenres exist, gamelan music can be divided into 3 primary geographic / cultural areas: Javanese, Sundanese & Balinese.
Since beginning my B.Mus. at Acadia University, gamelan has been an increasingly significant influence on my composing. I've been fortunate enough to have experienced playing and performing with both Sundanese and Balinese ensembles, and in the summer of 2014 I was invited to participate in two weeks of gamelan degung and kacapi suling workshops in Bandung, West Java.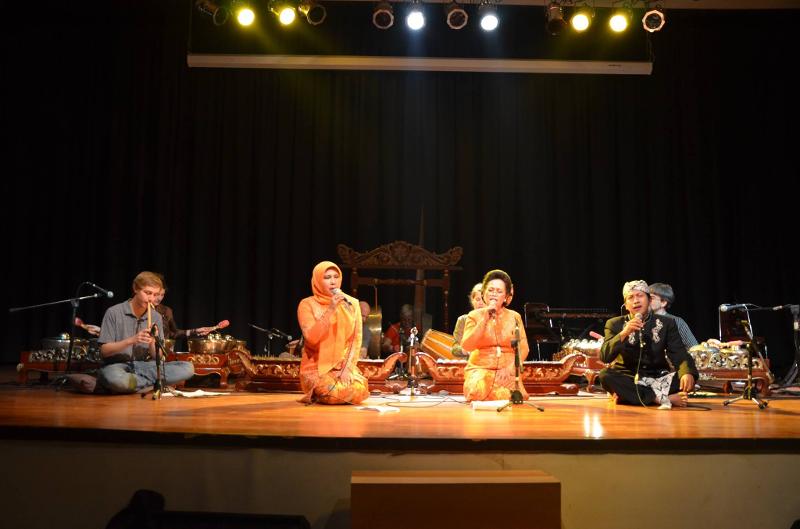 Lucas (far left) performing on suling degung with renowned Sundanese vocalist Mamah Dasimah at Padepokan Seni Mayang Sunda in Bandung, West Java, along with musicians from Kawistara Ensemble, Acadia University, and the Memorial University of Newfoundland. This concert was a result of two weeks of workshops with master Sundanese musician Ade Suparman in Bandung, organized by percussionist/composer Ken Shorley.
Gamelan Gita Asmara
Vancouver, British Columbia
Bandung Gamelan Degung Study Intensive
Bandung, West Java, Indonesia (May 2014)
Gamelan Gita Asmara
Vancouver, British Columbia (2013-14)
UBC Balinese Gamelan Class / Ensemble
Vancouver, British Columbia (2013-14)
Private Suling Lessons with Ade Suparman
Wolfville, Nova Scotia (Spring 2013)
Acadia Gamelan Ensemble
Wolfville, Nova Scotia (2012-13)
Acadia Intro to Gamelan Class
Wolfville, Nova Scotia (2011-12)
Prelude and Soundscape (2013)
suling degung / violin / piano & wind chimes / Indonesian percussion [ c. 5'00" ]
Embat kuwi digawa mati (2012)
for Sundanese gamelan degung [ c. 9'30" ]
suling / peking / cempres / bonang / gambang / gong&pul / kendang
composed for and premiered by the Acadia Gamelan Ensemble