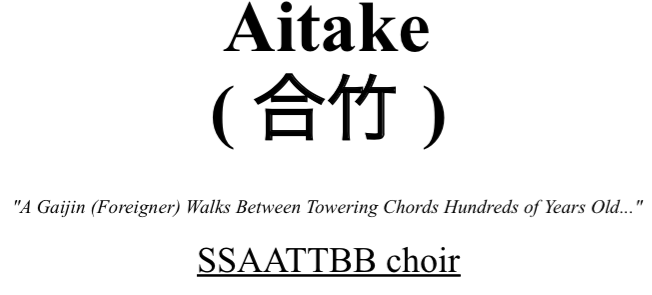 Programme Notes:
In the summer of 2014 I married my now-wife at a Shinto shrine in rural Tokushima, Japan. This piece for SSAATTBB voices is one of several pieces in which
I try to actively explore the new personal significance that Japan and its music has for me.
Specifically, this piece explores the traditional tone clusters of the sho, called aitake. Traditionally, these are navigated via highly stylized movements called
te-utsuri, which are specific transitions between all of the tone clusters that every fluent sho player must know. This piece does not employ any of the traditional te-utsuri - rather, it is an original Western exploration of these fascinating sonic structures, with my own Western conceptions of harmony highlighted (and scrutinized) at the forefront.